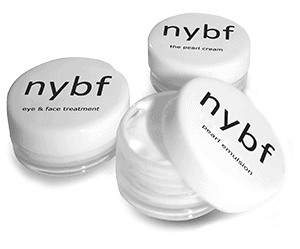 Met de knop op deze pagina betaal je eenmalig €9,95 voor 10 NYBF samples. Bij je samples ontvang je een kortingscode t.w.v. €9,95 die je kunt verrekenen bij je eerste bestelling. We wensen je veel plezier bij het uittesten van de producten. Hartelijke groeten, NYBF
De sample set bestaat uit:
The Purifying Cleanser
The Hyaluronic Water
The Exfoliant
The Pearl Essence
The 24/7 Eye & Face Treatment
The Pearl Emulsion
The Vitamin A Vital Serum
The Activating Rich Cream
The Eye Lift
The Pearl Cream
De meest populaire NYBF producten
Stel je NYBF huidverzorgingspakket samen en bepaal zelf hoeveel korting je mag verrekenen:
van 5% bij 2 producten oplopend tot maar liefst 25% bij 6 producten.