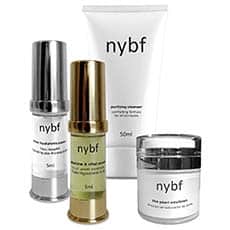 Met de NYBF Travel Kit straal je overal ter wereld. Een overzichtelijk setje van 4 essentiele NYBF producten in een handzaam formaat. Travel light in optima forma.
The Travel Kit bestaat uit de volgende producten:
The Purifying Cleanser – 50ml, normaal €7,95
The Hyaluronic Water – 5ml, normaal 13,95
The Vitamine A Vital Serum – 5ml, normaal €14,95
The Pearl Emulsion – 15ml, normaal €16,95
Bestellingen voor 16.30 uur worden dezelfde dag verzonden.
Bezorging binnen 24 uur, met uitzondering van zon- en feestdagen.